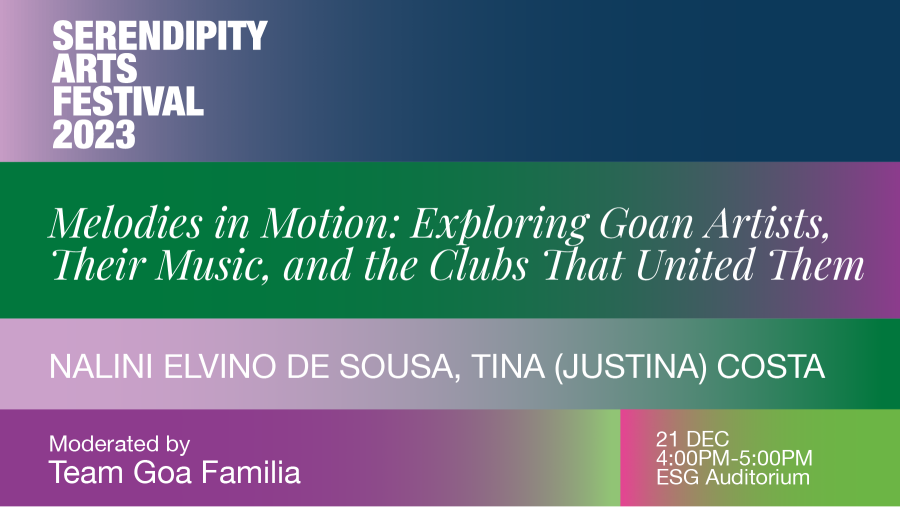 Melodies in Motion: Exploring Goan Artists, Their Music, and the Clubs That United Them
Nalini Elvino de Sousa and Justina Costa have worked together closely when Sousa was researching for her film 'O Clube', as well as her thesis 'Kantar Goa...", that studied, documented and translated renderings from Konkani Tiatr recorded on shellac discs, from the AIR archive.
Costa's association with music and song began through her father Allen Costa, a legend in All India Radio, Goa, and her knowledge grew over the years of her professional relationship with radio as well as diverse cultural programming. Their conversation will touch upon the many complex layers of creative endeavour - for the love of Goa, including the joys and challenges of chasing the elusive shellac discs, the process of digitising the songs and translating them, as well as the enormity of connecting with and recording interviews with musicians and families during the pandemic.
Speakers: Nalini Elvino de Sousa, Tina (Justina) Costa
Moderated by Team Goa Familia
Date: 21 December 2023
Time: 4 PM - 5 PM
Venue: ESG Auditorium
book seats ⟶