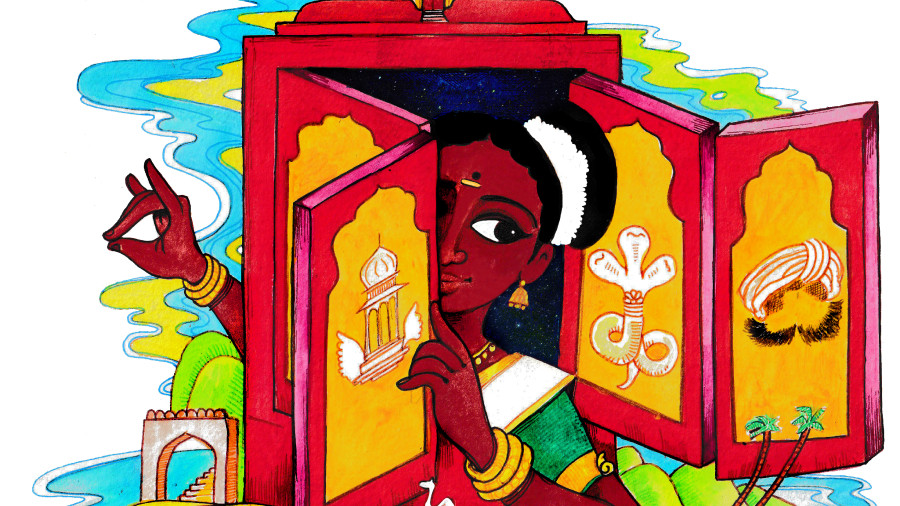 Manthan: A Confluence of Kaavad Katha & Mohiniyattam
A performance that unites two ancient traditions, like two birds meeting in a tree, entwining, and then taking flight, leaving us with an enchanted sense of duality in our lives. As the weaving of stories unfolds, Reality encounters the Imaginary, the Teller encounters the Tale, and the Dancer encounters the Dance, resulting in the dance of their stories.
As the doors of the Kaavad open, a dancer and a storyteller guide you into a mystical realm where time and space intertwine, where stories and dance merge—a river flowing through the doors of human experience, each guarded by the riddles and spirits of its landscape. They become one for a moment and then separate yet remain intertwined.
Join us for an evening that brings together stories, dance, art, and music to craft a surreal experience.
Curated by: Mayuri Upadhya

Date: 16 December 2023
Time: 4 PM - 5 PM
Venue: The Foundry, Old GMC Complex
Credits:
Divya Warier & Akhshay Gandhi
Visual Art: Rohit Bhasi (Indigoranges)
Music Director: Thrissur M Shyam Kalyan
Dramaturg & Research guide: Jayachandran
Surendran
Research & Lyrics support: Himanshu Srivastava
Associate Choreographer: Vidya Pradeep
Kaavad maker: Dwarka Prasad Jangid
Music Credits:
Vocals: Murali Sangeeth
Mridangam/Madhalam:  Kalamandalam Sreerang
Violin: Thrissur M Shyam Kalyan
Veena: V.Soundararajan
Flute: Hariprasad Subramanian
Edakka: Arun Das Sruthilaya
Harmonium:  N K Madhusoodanan
Malayalam Lyrics: Kalamandalam Viswas
Recording, Mix & Master : Praveen Triprayar Madom  Studio : Gallery Vision (Kochi)
book seats ⟶