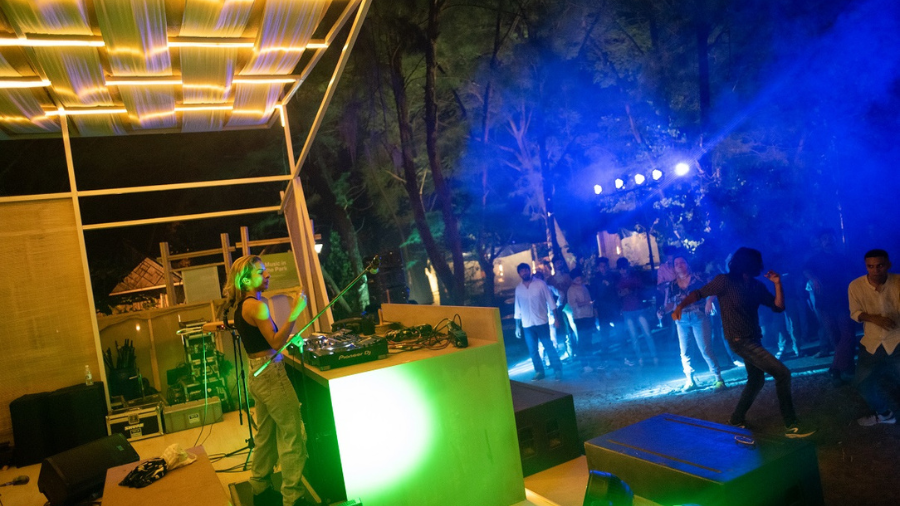 B-side
B-side is an initiative by Serendipity Arts centred around independent music and cultural currents stemming from contemporary music practices. The programme strives to spark conversations around music production, DJ-ing, research, performances, educational modules, and collaborative sonic explorations focussed on emerging acts across South Asia.
The Festival will have performances by established independent and alternative artists, along with artists selected from the Music Production Residency in October. 
A Serendipity Arts Foundation Initiative 
Line-up:
16 December 2023
Venue: The Backyard, Old PWD Complex
Discokid:  7 PM - 8 PM
Carissa: 8 PM - 9 PM
Farhan Rehman: 9 PM - 10 PM

17 December 2023
Venue: Art Park
Nariki: 7 PM - 8 PM
Stain: 8 PM - 9 PM
Oceantied: 9 PM - 10 PM
18 December 2023
Venue: The Backyard, Old PWD Complex
Digging in India: 7 PM - 8 PM
Antariksh Daddy: 8 PM - 9 PM
DJ Uri: 9 PM - 10 PM
20 December 2023
Venue: Art Park
Ditty: 8 PM
Tara Lily: 9 PM
21 December 2023
Venue: Art Park
pale blue dotter: 7 PM - 8 PM
Seasonal Affected Beats: 8 PM - 9 PM
Elle Shimada (Live): 9 PM - 10 PM
22 December 2023
Venue: The Backyard, Old PWD Complex
B-side x Qilla Records present Labyrinth, featuring Kohra (Vinyl) and Tyrell Dub Corp (Live): 
Kohra (Vinyl): 7:00 - 8:45PM 
Tyrell Dub Corp (Live): 8:45 - 10:00 PM 

About the Artists:
Discokid
Discokid is a Goa-based musician, producer, and the founder of Paradise Disco, an IP that she is taking forward to create a happy space for Disco lovers. 

Carissa

This Bengaluru-based DJ's music covers disco, house, and deep house, drawing inspiration from Natasha Kitty Kat, Kerri Chandler, Folamour, Apparel Wax, and Mark Knight, among others.

Farhan Rehman

Farhan Rehman's productions and DJ sets are immersive journeys that have transcended boundaries to represent the full spectrum of danceable music, drawing upon everything from afro, worldbeat, and funk, to jazz, house and disco.

Nariki

Mumbai-based DJ Nariki dabbles in many shades of the electro spectrum and her music defies genres. Essentially a music journalist and content strategist, she has worked with several homegrown and international music portals over the past four years.

Stain

Stain is a Delhi-based musician who specialises in sub heavy sounds which are best suited for Jamaican-style sound-systems. He is also the former member and co-founder of the Sub-Z crew, who were infamous for their underground raves named "Bassmndi" to push their sound.

Oceantied

Oceantied is the musical alias of Bangalore-based producer and DJ, Ketan Bahirat. Known for his unique blend of electronic sounds and influences from Indian rhythms, Oceantied has been making waves in the Indian music scene since his debut in 2014.

Digging in India

Delhi's Nishant Mittal is an ardent purveyor of overlooked Indian and world music across rare groove, funk  and disco, which he showcases through his role as a collector, archivist, selector, radio host and vinyl-digging patron. He will play a vinyl set at B-side.

Antariksh Daddy 

Anandit Sachdev (aka Antariksh Daddy) is a sound artist, DJ and an electronic music producer based out of Delhi, India. He launched AntarikshRecords - a record label aimed at the propagation and curation of quality dance music in South Asia. He will play a vinyl set at B-side.

DJ Uri
With 20 years in the Indian scene and regular shows across Europe, DJ Uri has experimented with heavy weight bass, scratches, live sampling and finger drumming.

Ditty

Ditty is an Indian independent artist and urban ecologist whose music is inspired by the natural world. She started by playing music on the streets to reclaim public spaces as a woman (#StreetsForUs). In 2021, she co-founded the interdisciplinary artists collective Faraway Friends, across Europe and India, to address urgent topics around the ecological crisis. 

Tara Lily

Tara Lily's sound is the perfect blend of new and old; of 50s parlour singers' smooth jazz vocals over thoroughly modern background beats. Her debut single, Who Saw Who is a stellar introduction to her personal, idiosyncratic brand of urban jazz, produced by grime legend Jammer BBK.

pale blue dotter

Surbhi Mittal aka pale blue dotter gravitates towards an intuitive understanding of sound guided by the listening practices of Pauline Oliveros & modular synth design.

Seasonal Affected Beats

Regarded as one of the finest jazz drummers in India, beat maker and composer Tarun Balani explores electronic music in his solo project, Seasonal Affected Beats. Referring to what he does as 'improvised electronic music', Seasonal Affected Beats merges the finesse, controlled volatility and discipline of jazz with electronic beats.

Elle Shimada (Live)

Elle Shimada is a violinist, producer, curator, DJ, and multi-instrumentalist from Tokyo based in Melbourne, working with a unique combination of thickly layered string lines and heavy new-jazz influenced beats, while keeping the dance floor pulsing with visionary and edgy production. 

Kohra 

Kohra is a DJ/producer on a journey of seeking the unknown. He meanders through immersive soundscapes and deep rhythms while expanding on a vision and sound that traverses beyond the expected and the familiar. He established his own label Qilla Records in 2011, and will be playing a vinyl set at B-side.

Tyrell Dub Corp (Live)

TDC (Tyrell Dub Corp) is an alternate project of Delhi based producer Sanil Sudan a.k.a. FILM. He uses this moniker to celebrate old Detroit techno through leaner productions. His interests in Techno, early forms of Reggae/Dub, Detroit & Berlin Dub Techno stripped down to its very basics, allow the music to breathe within rhythms, bass and its various idiosyncrasies.
book seats ⟶