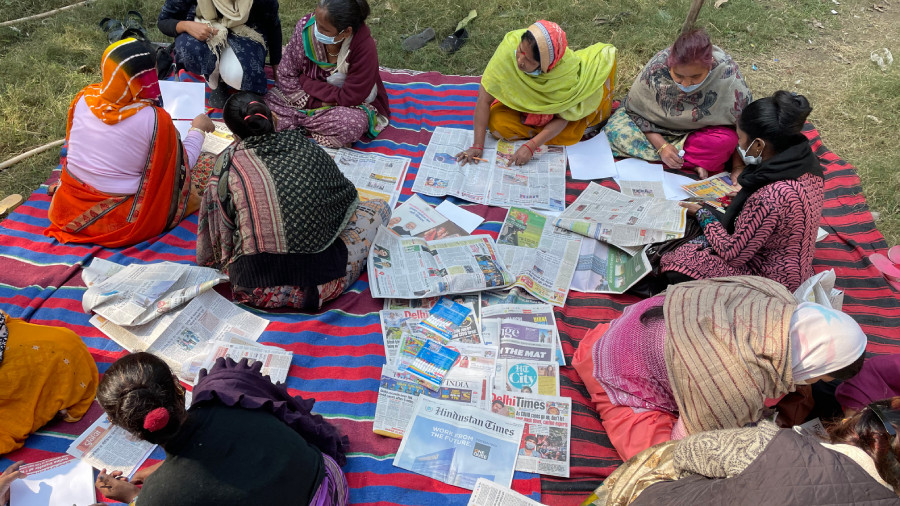 Zine-Making Workshop
These workshops will engage participants in creating a zine: an independently produced booklet, made for love, not profit. Everyone who attends these workshops will get the chance to submit the zines they make to Potluck: The Cui-Zine Library, housed at The Grove in the Old GMC Complex during the festival. Facilitated by Riya Behl and Devashree Somani of Zinedabaad Collective, each workshop explores diverse thoughts, feelings and stories on food.
- Making Zines, Making Friends: A DIY Workshop (15 December)
Food helps break ice, start conversations and forge friendships. This food zine workshop is designed to do exactly that and more! Expect to learn new arts-based techniques and meet open-minded foodies through this informal and interactive session.
- Photo-Walk Through Panjim Market (16 December)

This journey begins with a 90 minute-long guided photo-walk through Panjim Market, facilitated by Roshni Kapoor and Riya Behl, and flows into workshopping the conversations, images and worlds encountered during a 90 minute sit-down zine-making session at The Food Lab.

- What's Desire Got to Do With It (17 December)

Unpack people's obsession with aphrodisiacs, the nuances of pleasure politics and the implications of consumption through the lens of food and desire. Don't worry, we'll print out the appropriate emojis for you to collage with during this workshop.

- Where Did It Come From, Where Did It Go (18 December)

Who grows our food? Who processes and packages it in factories? Who collects, segregates and recycles the waste this work generates? Read zines by street vendors, agricultural and sanitation workers during this workshop and create your own ways of meaningful engagement.

- Secret Supper Club (19 December)

We cannot reveal this to you for confidential reasons. You know the place, time and date for this event though. Show up ready to deep-dive into the history of sharing secrets and bounce back here to the present, definitely having learned something new and crafty.

- Collaborative Art For All (20 December)

Do you want to make art but don't know where to begin? Does staring at a blank sheet of paper scare you? Would you like to join a workshop without too much interaction, but just a safe space to make something? Come. This is for you.

- Fruits of Our Labour (21 December)

Food is a labour of love; a labour that intersects with identity, history and culture. Can we visibilize the blood, sweat, tears, joy and love it takes to nourish our communities and be nourished in return? Explore food through this intersectional lens in a reflective zine-making workshop.

- A Year In Food (23 December)

How does the food you've been eating reflect your year? How do you want to approach your food and life in the coming year? Join us to do your year-end reflection a little differently at this workshop.

About the Facilitators:

Zinedabaad is a zine-making collective, run by a photo-journalist and researcher duo, Riya Behl and Devashree Somani. They make zines, organise workshops and curate pop-up zine libraries.
Zinedabaad believes in the spirit of the zine: a non-commercial, non-professional, small-circulation booklet, usually distributed by zinesters themselves and made with the aim to exist outside of mass consumer culture.
The word 'zindabaad' in Hindustani means 'long live' and Zinedabaad is committed to keeping the spirit of social impact alive through their innovative, arts-based, community-building efforts.
Facilitated by: Zinedabaad Collective
Dates: 15, 16, 17, 18, 19, 20, 21, 23 December 2023

Time: 12 PM - 1:30 PM
Venues: The Food Lab, Old GMC Complex
book seats ⟶