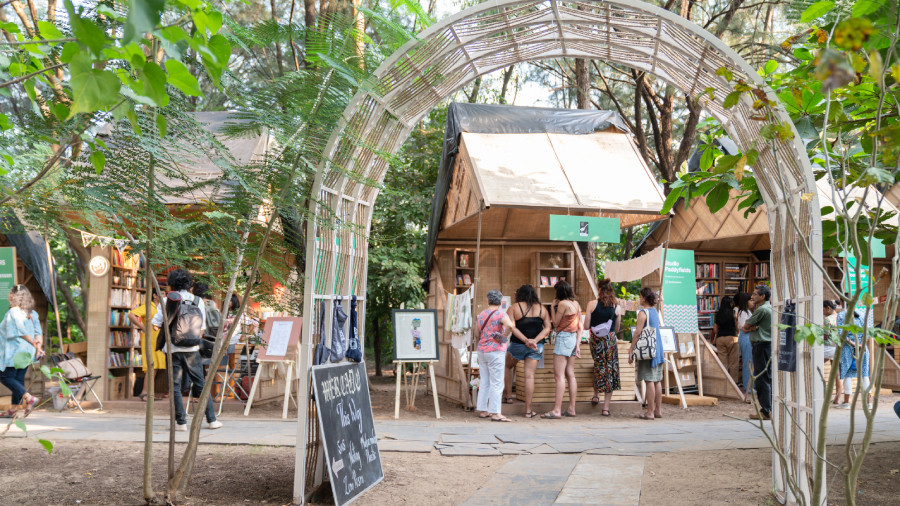 The Mercado
Engage, Immerse, Inspire
Last year at the Mercado, Bhagyashree Patwardhan brought together small and local brands from Goa, working towards an inclusive and sustainable approach to living. People from around the world got to engage with these homegrown brands, listen to their stories, and take some of these local products back home. It was a great success.
This year, the curator wants to explore the nuance in the question - What is 'sustainable'? Does sustainable mean handmade? Is handmade sustainable? Can sustainable ways become the norm for the future? Can we look to the past to build our sustainable futures?
This year, Bhagyashree has invited people who are driven by their belief in a slow and sustainable lifestyle: a path that is long but rewarding.
This project is not the platform to find the answers, but to put forward the questions. It brings various stakeholders working in this space together to interpret their role in building a sustainable lifestyle. One slow step at a time.
The Mercado is designed for you to engage with these visionaries, listen to their stories and immerse yourself in the experiences they create, perhaps aiding you to formulate your own version of 'sustainability'.
Curated by: Bhagyashree Patwardhan
Project Partner: Paper Boat Collective
Date: 15 - 23 December 2023
Time: 11 AM - 8 PM
Venue: Art Park
Brands:
Choose Kind

FroggMag
Earthपूर्ण Foods
LaFabrica Craft
Mud Skippers Studio
Quinta Essentia Organic
A S A I I
Oh Scrap! Madras
CreativeDignity
Kissa-goi
Botanic Love
Blu Toad
Motley Brew
reCharkha EcoSocial
Beej
Aami
Mon Ami Foundation
Little Wholesome Pantry
Love Me Twice
Workshop Schedule:
The Talking Quilt
15 December 2023
11 AM - 12 PM
Key Holders from Plastic Wrappers
16 December 2023
11 AM - 12 PM
Introduction to (Scrap)Book Binding
17 December 2023
11 AM - 12 PM
A Collection of Motley Tales of your Favourite Brews
18 December 2023
11 AM - 12 PM
Driving Climate Action through Conscious Consumption
19 December 2023
11 AM - 12 PM
Upcycle with Oh Scrap!
20 December 2023
11 AM - 12 PM
FroggMag and the 4 Cs of Sustainability
21 December 2023
11 AM - 12 PM
Walk and Learn
22 December 2023
11 AM - 12 PM
Plant Walk
23 December 2023
11 AM - 12 PM
Please find more details about these workshops on the Programs tab.
book seats ⟶