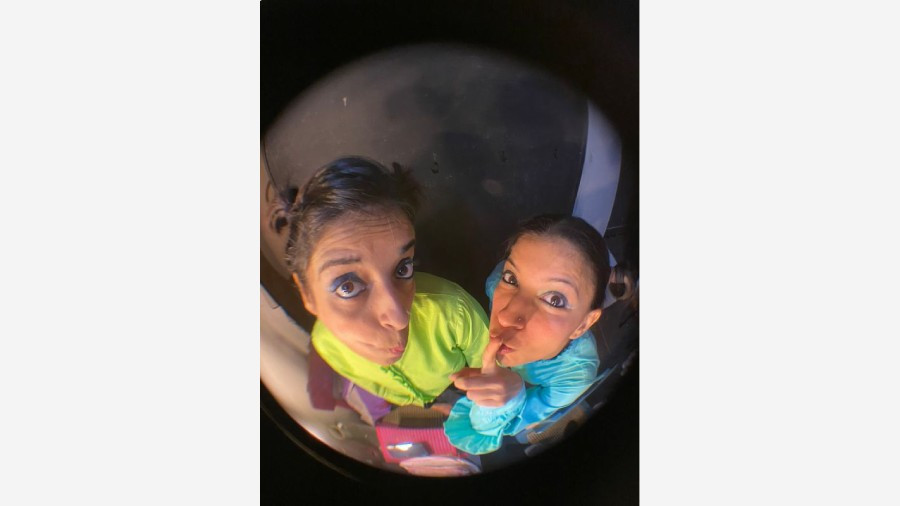 The Land of Mea Lilo
The audience is invited by Mea & Lilo, two quirky characters, to join them in their discovery of 'The Land of Mea and Lilo'—a place filled with hidden objects. Follow their adventures and see how they overcome challenges with wit, teamwork, and determination. Witness their creative explorations and let your imagination come to life!
"I see, you see, what could it be?!"
This work focusses on the joy of imagination and play, achieved through the exploration of ordinary everyday objects by these two heartwarming yet imperfect characters. The performance values the sharing of unfiltered emotions and uses a minimalist approach to language, incorporating elements of clowning and physical comedy. This makes it highly relatable for young viewers while also connecting with the inner child in adults.

The soundscape, accompanied by live music, immerses the audience right from the start, transporting them into Mea and Lilo's world of hidden objects. The live music, interactive songs, and thoughtful light design subtly and beautifully enhance the emotional experience for the audience as they follow the characters' journey.
Produced by Move with Joy & Small Tales
Team:
Devised and performed by Dipna Daryanani and Priyanka Babbar
Sound Design: Rohit Das & Ritesh Malaney
Lights: Kunal Sharma
Curated by Quasar Thakore Padamsee
Date: 22 December 2023
Time: 10 AM - 11 AM, 12 PM - 1 PM
Venue: The Foundry, Old GMC Complex
book seats ⟶