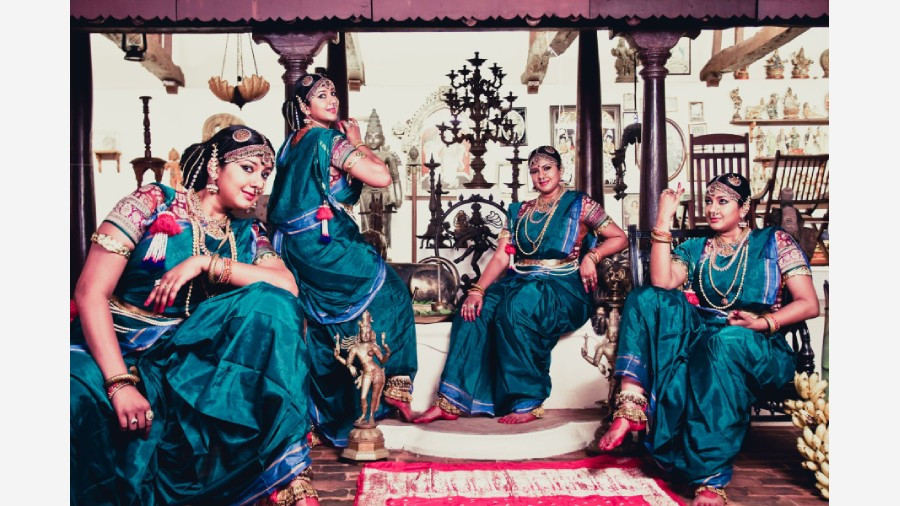 Rakti: Collaborations in Pleasure
To understand the multicultural societies of the past, we can see the dancer's body, persona and repertoire, as sites of negotiation with differences, sustained through the concept of cosmopolitanism. The people of Early Modern Deccan (15th - 19th centuries) regions, lived amidst novel and exquisite cultural habits that came from lands far off as well as from native communities. Whether war torn, poverty stricken, courtly, luxurious, travelling and mobile, religious or ritualistic, in the lives of these people, pleasure or 'Rakti' was integral. Acceptance, curiosity, consent, co-existence and plurality are its many cultural translations. The next chapter from the pages of 'From the Attic', a pursuit in decoding the multicultural past of performing traditions, 'Rakti' holds poetry, music and dance as experiential engagements along with other sensorial stimuli such as food, colours, smell, and nostalgia.
Date: 20 December 2023

Time: 8 PM - 9 PM
Venue: The Foundry, Old GMC Complex
Curated by Geeta Chandran
Presenter and Dancer: Dr. Swarnamalya Ganesh
Concept and Dance: Dr Swarnamalya Ganesh
Music Composition and Vocals- Anjana Rajagopalan
Mridangam: Sriganesh Ramamoorthy
Oud: Bonny Abraham
Kemençe- Meissen Alinaghiyan (Iran)
Harmonium: Srikrishnan
Visual Design: Vetri, Theatre Akku
Costume, Stage Visuals: Radhika Ganesh
Lighting Design: Charles B
About the Team:
Dr. Swarnamalya Ganesh is a performer with over 35 years of experience, a scholar of Dance History, as well as a trained academician in art practice and sociology. Her expertise in Early Modern Deccan research (Nayaka Period) is a pioneering effort to reconstruct many lost performing traditions from the past. "From The Attic" is a performance-lecture-exhibition series based on her research. From collaborations with artistes of various genres to reflecting the multi-cultural historicity of dance and music in South India, her works speak of inclusivity and harmony as inherent values of performing traditions. A published author, public intellectual, and an ardent Tamil History and cultural researcher, she has produced many productions based on Tamil Epics such as the Silappadikaram, Sangam Literatures, etc. She is a Professor of Practice, Global Arts at Krea University and the Director of Ranga Mandira Academy of World Dance/Performance and Indic Studies.
Anjana Rajagopalan is a music producer, singer, composer, orchestrator, sound engineer, vocal producer, creative supervisor, and animator. She has a plethora of cross-cultural collaborations to her credit between Indian classical music, Western classical and contemporary Arabic music with eminent artists. She is the music producer of the Firdaus Orchestra, Dubai.
Bonny Abraham is an independent musician/composer/multi-instrumentalist who plays the oud in 'Rakti'. He aims to break down cultural barriers and spread the love of music across the globe.
Meissam Alinaghiyan is a nomad musician who travels around the world with his Kemençe (Iranian native instrument), exploring various music cultures.
Sri Ganesh Ramamoorthy is a senior percussionist with decades of experience in playing for dance for senior artistes of the country. He is also a composer of rhythm sections for compositions and is a lead artiste in a percussion band.
Srikrishnan Balasubramaniam is a multifacted artiste who has worked with Dr Swarnamalya in integrating the harmonium into the performance soundscapes of Sadir. He also performs with senior musicians such as Aruna Sairam, O S Arun and others.
Padmasani Iyengar is a student of Sadir under Dr Swarnamalya Ganbesh. She studies media studies and sound engineering from A R Rahman's KM Conservatory.
Charles B is an experienced lighting and sound designer for live works. He co-runs Medai.
Radhika Ganesh is a cultural rights activist who has extensive knowledge of the native cultures of indigenous communities. She combines her formal training as a designer from London College of Fashion along with her deep understanding of the politics, subject, and many layers of Dr Swarnamalya's live works, to translate their textures on stage.
book seats ⟶