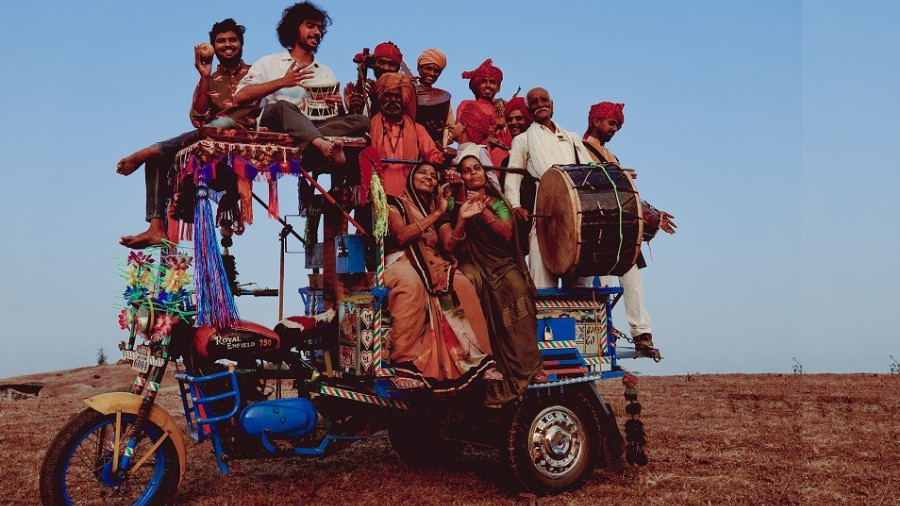 Nimad: Under the Neem Tree
'Nimad: Under the Neem Tree' is a once-in-a-lifetime record that meticulously documents the sonic tapestry of Nimadi folk music from Madhya Pradesh. It seamlessly blends these traditional melodies with influences from around the world, resulting in a rich palette of sounds that breathe new life into the timeless world of folk tunes passed down through generations in small communities.
This project came to fruition when two multi-instrumentalists, Bharat Chandore and Jayesh Malani, made the decision to pack their bags and gear and embark on a journey to the small village of Chichi in Nimad, Madhya Pradesh. There, they spent 25 days crafting a makeshift studio in an ancestral mud-house nestled amidst acres of banana plantations along the banks of the river Narmada. Prior to this venture, they had spent a good six months scouting for different groups of folk musicians.

The result, as you will hear, is a remarkably fresh musical realm born through the exploration of sonic textures. It delicately preserves the rawness of Nimadi folk music while seamlessly incorporating elements from different parts of the world, including Gnawa, New Orleans, and various textures from the Indian and Pakistani subcontinents.


The combination of these records and visuals offers a holistic experience that will take you by your hand on a journey that explores culture, stories, folklore, and the remarkable ability of music as a universal language to transcend all barriers and serve as the purest form of communication.
Team:

Composer, Arranger, Multi-Instrumentalist: Jayesh Malani 
Composer, Arranger, Drums: Bharat Chandore
Vocals and Harmonium: Balkrishna Dhangar
Vocals, Tambura, Dholak: Lalkrishna Dhangar
Dhol: Dasrath Bhandole
Vocals: Deepak Harbola, Bhola Harbole, Aftab Ahmed, Sajid Khan
Tabla: Mohammad Aamir
Horns: Bombay Brass
Bass: Keshav Iyengar
Backing Vocals: Navaneeth Venkateshwar, Deepak Yadav
Director: Warren Dsylva
Production: K G Ramnarayan
Sound: Arman Tejani
Costumes: Green Room Trunks
Visuals Director: Keerthy Raju
Visuals Animation: Vinay Khare
Date: 17 December 2023
Time: 7 PM - 8 PM
Venue: The Arena at Nagalli Hills Ground
book seats ⟶