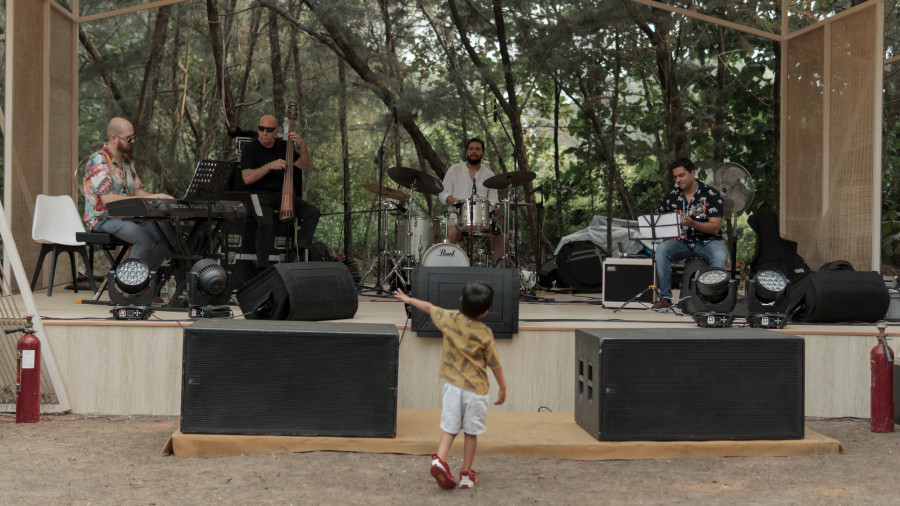 Music in the Art Park
Over the course of history, Goa's contribution to the creative landscape of India has not been insignificant. As one the few Latin colonies in the country, its particular aesthetic has influenced musical traditions of varied origins: the Portuguese Fado, classical Indian, American jazz, and Bollywood of the 1950s and '60s – its East meets West sensibility best illustrated in the Mandos and Dulpods of the state's Catholic community.
In curating 'Music in the Art Park,' the difficulty lay not only in building a theme but also in choosing among the outsize talent available, considering how integral music is to Goa's identity. This series of concerts covers a range of genres with deep roots along the Konkan coastline.
Curated by: Shyamant Behal
Date: 15 - 23 December 2023
Time: 1 PM - 4 PM
Venue: Art Park
Artist:
Lojal
15 December 2023
Lojal is the musical brainchild of Martin J. Haokip. From being a solo singer-songwriter, to being a rapper, producer and a musician, Lojal dives into various realms of performance, pushing the boundaries of genre.

Shayne Ballantyne and Ranjit Arapurakal Trio
16 December 2023
Shayne has been playing Guitar for over 15 years. Having started out in Goa, his repertoire encompasses traditional music genres like Jazz, Blues, Funk, Rock, along with Electronic, Psychedelic Trance, Fusion, New Age, and World Music.
Steve Sequeira and Band
17 December 2023
Steve Sequeira, an African-American drummer, who has been living in Goa since the 60s, is one of Mumbai's biggest Jazz icons, having performed in legendary shows like Alyque Padamsee's Jesus Christ Superstar.

The Aviv Projekt
18 December 2023
The Aviv Projekt has a unique sound that draws influences from Soul, Blues, Funk, Rock and Reggae, while also transcending genres.

Maxie Miranda Trio
19 December 2023
Having made his debut in the international dance and music scene, Jose Maximiano De Miranda is now all set to rock Goa with Latin dances like Argentine Tango, Salsa, Merengue, Bachata, Forro, and also singing and playing the guitar.
Mujo
20 December 2023
Mūjo came together in 2022 over a love for Jazz, Afro-Cuban, Brazilian music which developed into more modern Neo-Soul and Funk.
Pink Moss
21 December 2023
Pink Moss is an Alternative R&B, Funk, Neo-Soul, Afro-Pop band based out of Goa, India. The band brings in a blend of soothing soul, Jazzy and groove heavy tunes, sometimes fused with Assamese lyrics to give birth to a whole new genre.
The Laura Santana Trio
22 December 2023
The Laura Santana Trio specialises in Jazz, Soft Rock, Retro-Pop, Retro-Hindi, Hollywood and Bollywood music.
XCT - Xavier's Spontaneous Combustion Theory
23 December 2023
A progressive Jazz fusion band.

book seats ⟶