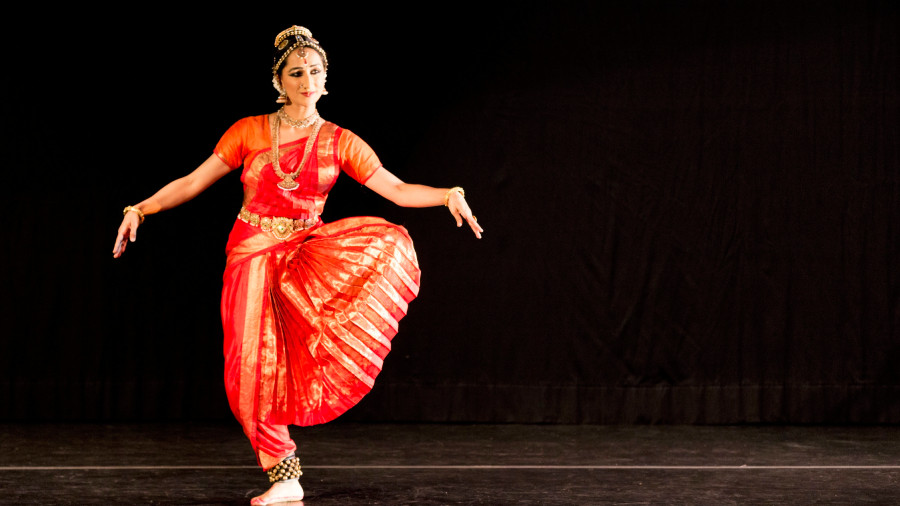 Mandala
A recurring message of saint-poets across time is the reminder that enjoyment, pain, delight, struggle are all fleeting—this too shall pass. They remind us to savour the world, be fully present in it, while simultaneously remembering that nothing is permanent.
This collaboration between Chandana Bala Kalyan and Amrita Lahiri is a journey through themes of Maya, the body-mind connection, and the notion that the divine is within each of us. It is a dialogue between the dancer and the singer, using poetry from various regions of India, including that of Kabir, Annamacharya, and Kanakadasa. The artists also explore the concept of Maya through swaras and rhythm.
Chandana Bala Kalyan brings with her years of poetry research and astounding vocals, and Amrita Lahiri has been guided in Kuchipudi dance choreography by Leela Samson, one of the seniormost Bharatanatyam gurus in India today and well-known for her interpretation of philosophical texts in dance.
Curated by: Mayuri Upadhya

Date: 16 December 2023
Time: 6 PM - 7 PM
Venue: The Theatre, Old GMC Complex
Artists:
Chandana Bala Kalyan
Amrita Lahiri
Light Design: Gyandev Singh
About the Performers:
Amrita Lahiri is recognised as one of the foremost young performers of Kuchipudi today. Her dance performances have been acclaimed for their elegance and dynamism, combined with a refined approach. She has toured as a soloist in India and internationally, presenting Kuchipudi from its traditional origins to its contemporary forms.
From its origins in Andhra Pradesh several centuries ago as a male dance-drama style, Kuchipudi has a lightness and dramatic quality that set it apart from other Indian classical dance forms. Amrita combines the grace and light-footedness of Kuchipudi, with a focus on depth of emotion and attention to aesthetics of movement, music, and content.
Amrita Lahiri began dancing at age 7 in Washington, D.C. studying under Anuradha Nehru until she shifted to New Delhi at age 15. After her solo debut at the India International Centre in New Delhi in 1996, for which she was critically acclaimed as 'first-class professional material', she continued to perform Kuchipudi, and also started learning Bharatanatyam under Leela Samson. While in New Delhi, Amrita studied under Swapnasundari and Seetha Nagajothy (a senior student of Vempati Chinna Satyam). In Chennai, she studied with Kishore Mosalikanti. Her dance reflects the influences of all of these outstanding gurus, and the experience of many performances.
Amrita has a Masters in Sociology from Jawaharlal Nehru University, New Delhi. She has worked for leading arts organisations and was the head of the dance department of National Centre for Performing Arts, Mumbai (NCPA), where she curated and managed over 200 dance performances, workshops and master classes, developing enthusiastic new audiences in Bombay for the genre. Since 2019, she is a curator for the new Jio World Centre in Mumbai. Through her performances, writings, workshops and choreographies, Amrita strives to expand and share the specific beauties of the dance form. She lives in Mumbai with her two sons.
Chandana Bala Kalyan belongs to a rare breed of singer-songwriters in the world of Indian classical music. Possessing unusual musical dexterity, she sings in polyrhythm cycles: using both the hands to keep time for different patterns. Trained and steeped in the Carnatic classical tradition, Chandana brings a unique sensibility to the music she creates and performs. She is a contemporary singer who experiments with genres both as a composer and a singer. Her incredible ability to traverse scales and move between genres as diverse as Carnatic, Hindustani, Sufi and Jazz, exhibits her versatility. She has taken the Carnatic idiom and given it newer expressions in her experiments with different musical styles.
book seats ⟶