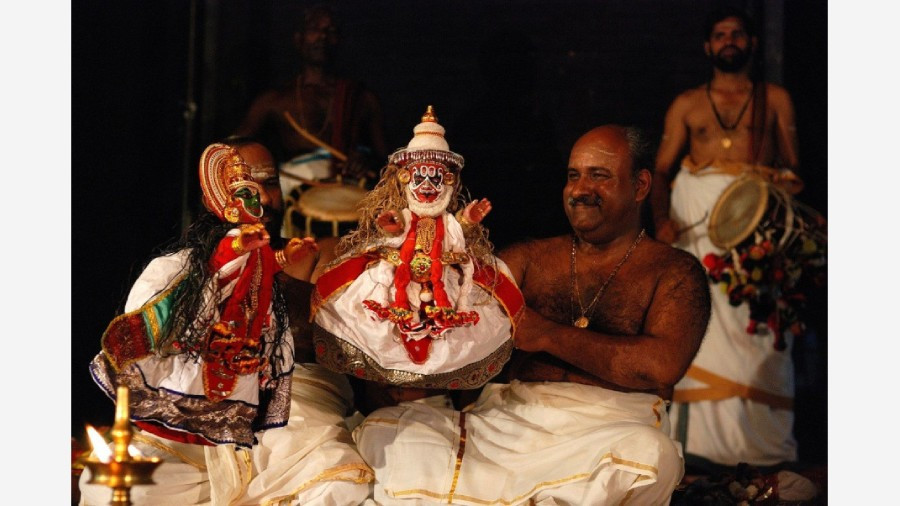 Kalyana Sougandhikam and Duryodhana Vadham in Pavakathakali
Pavakathakali, or glove puppet play, came into vogue and popularity in Kerala two centuries ago through the influence of the famous classical dance theatre, Kathakali. The word Pava means "puppet" and Kathakali means "story play".  This artform is of particular significance because of its ability to present Kathakali, the classical dance-drama, through puppetry.
From the very beginning, Pavakathakali was meant chiefly for the benefit and amusement of children. These performances made children quite familiar with the stories of two major Hindu scriptures, the Ramayana and the Mahabharata. At the same time, an interest in and respect for the traditional arts of Kerala, and a capacity to appreciate and enjoy them was developed.
This performance will showcase two stories from the Mahabharata: Kalyana Sougandhikam and Duryodhana Vadham.
Date: 18 December 2023

Time: 8 PM - 9 PM
Venue: The Theatre, Old GMC Complex
Curated by Geeta Chandran

Presented by Natana Kairali - Research and Performing Centre for Traditional Arts
Performers:
K. V. Ramakrishnan
K.C. Ramakrishnan
Sreenivas Kunnambath
M. Ramakrishnan,
P. P. Unnikrishnan, A. K. Haridas
book seats ⟶