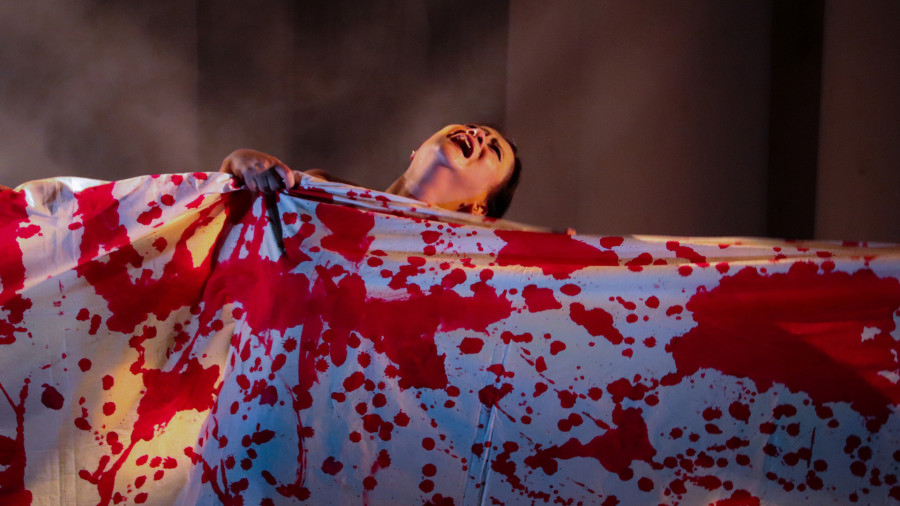 Footprints in Blood
'Footprints in Blood' is a dance performance that draws upon three stories of fiery feminist uprisings in Manipur. The first story is about the 2nd Nupi Lan (Women's War) that occurred in 1939. Fearless women from the agrarian community fought unarmed and laid down their lives to save their homes and harvest from the unfair export trade carried out by the British.

The second narrative concerns the bold Meira Paibis (torch bearers) of Manipur. Till date, they march along the streets at dusk with flaming torches in their hands and raise their voices against various forms of social injustice like domestic violence, drug and alcohol abuse and violation of human rights.
And the last story is about the historic nude protest by a group of women in 2004 against the heinous rape and murder of a suspected terrorist named Thangjam Manorama by the so-called 'protectors of the state'.
'Footprints in Blood' has been rechoreographed using the indigenous performing arts and storytelling traditions of Manipur.
Curated by: Mayuri Upadhya

Date: 22 December 2023
Time: 8 PM - 9 PM
Venue: Dinanath Mangeshkar Kala Mandir
Artists:
Bimbavati Devi
Kankana Singh
Ivana Sarkar
Pukhrambam Anupama Devi
Huirem Indu Devi
Rujina Lama
Thokchom Lansana

Chanu

Huirem Indu Devi

Naoshekpam Rakesh Singh

Kaushik Roy
Light Technician: Gopal Ghosh
Bimbavati Devi, being the daughter of renowned classical Manipuri dancers, Guru Bipin Singh and Guru Kalavati Devi, was initiated into the world of dance and music at a very tender age. She has also undergone very basic training in Poong (Manipuri mridang) playing and Thang Ta (a Manipuri martial art). As a solo artiste and as a performing artiste of Manipuri Nartanalaya, one of the pioneer institutions of Manipuri dance in the country founded by her parents and the well-known Jhaveri sisters, she has performed at various prestigious dance programmes and festivals in India and abroad. Besides being a classical dancer par excellence, Bimbavati is now engaged in various choreographies based on Manipuri dance, even trying to experiment with new idioms, thus trying to expand the vocabulary of movements, following the path shown by her parents.
Disclaimer: This production has taken its inspiration from the momentous feminist revolutions led by the Meitei women of Manipur and does not bear any resemblance to any person living or dead, past or present. It does not directly or indirectly draw aspersions on any particular community, creed or sect of the Manipuri society.

book seats ⟶