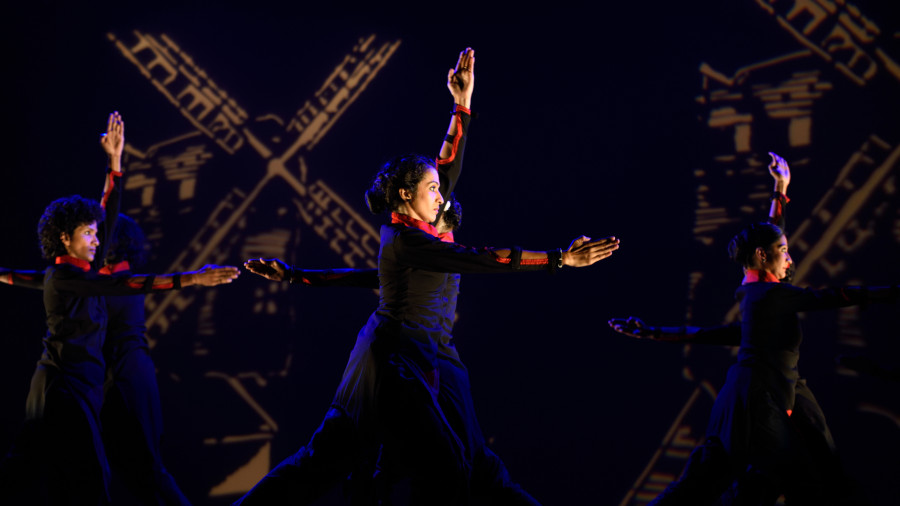 Don Quixote: A Bharatanatyam-Theatre Production
An idealistic dreamer sets out to revive the lost tradition of chivalry. Immortalising this unlikely knight errant and his befuddled squire Sancho Panza, Cervantes' novel has inspired countless individual artworks and entire cultural movements around the world.
This music-dance-theatre production is a twenty-first century stage adaptation of Miguel de Cervantes' early seventeenth-century novel. Sheejith Krishna's 'Don Quixote' combines multiple art forms—poetry, music, dance, and theatre—to unfold a timeless tale with universal relevance.
This production is the first adaptation of Cervantes' novel in the Bharatanatyam idiom. Rooted in Carnatic music, it breaks new ground in marrying contemporary elements with Classical forms.
Showcasing the rich performance traditions of India with the help of a classic Spanish tale, the work engages audiences from all over the world, bringing together two very passionate and soulful cultures—those of India and Spain. This unique production has been staged at the prestigious Kennedy Centre, the Madras Music Academy, and has toured 15 cities in the USA, winning acclaim from connoisseurs and critics in India and abroad.
Curated by:
Geeta Chandran
Date: 22 December 2023
Time: 7 PM - 8 PM
Venue: The Arena at Nagalli Hills Ground
Artists:
Director/Choreographer/Dancer/Actor: Sheejith Krishna 
Dancers/Actors: K B Madhusudhanan, Nidheesh Kumar LR, Season UK, Saranmohan, Gopi C, Manjari, Anjana Anand, Prithvija, Bristy Rani, Natasha Chandrakant Pandit, Nirali R Samani, Suhasini Shankar, Arundhati Srinivasan, Poornima K
Actor: Sneha Sheejith
Lighting Artist: Venkatesh Krishnan
Sound Engineer: Rakesh PM
Music Composer: Jyothishmathi Sheejith Krishna
Script: Akhila Ramnarayan
book seats ⟶