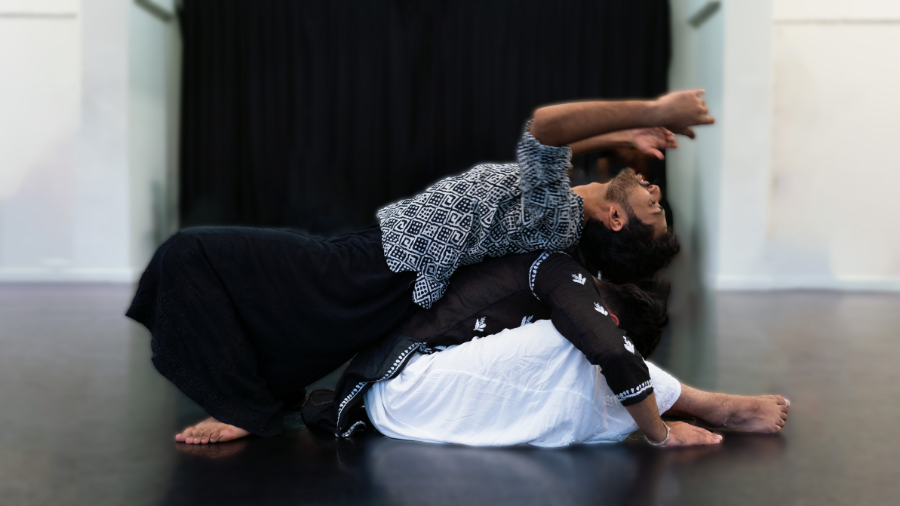 Damaru
The damaru is a traditional percussion instrument that bears multifaceted religious and cultural underpinnings that have come to shape the creative pulse of this project. This performance will explore the profound symbolism of the instrument in Hindu mythology — illuminating spiritual notions around the unity of existence — and the interplay between creation and destruction, welding its chosen movement forms with the Tandava that Shiva performed to the beats of the damaru, precipitating in the creation of the sound of music. 
Dancers Nilava Sen (India) and Shyam Dattani (UK) will bring their artistic prowess, creativity, and interpretations to this show, collaborating with the musical duo Shadow and Light (Pavithra Chari and Anindo Bose) and the accomplished light designer Gyandev Singh. This union of tradition and modernity promises to unlock new dimensions of artistic expression. Choreographic mentors include Morag Deyes and Tanushree Shankar.

Continuing the valued partnership between Sampad and Serendipity Arts, this commissioned piece will premiere at Serendipity Arts Festival 2023. Following its debut, the production is looking to tour several Indian cities. 'Damaru' has been invited to join the Birmingham International Dance Festival with a UK tour in 2024.
Date: 17 December 2023

Time: 7 PM - 8 PM, 9 PM - 10 PM
Venue: Dinanath Mangeshkar Kala Mandir
Credits:
Project co-commissioned by Serendipity Arts and Sampad South Asian Arts and Heritage
Performers : Nilava Sen, Shyam Dattani, and Shadow and Light (Pavithra Chari and Anindo Bose)
Music Arrangement and Composition: Shadow and Light
Lighting Designer: Gyandev Singh
Mentors: Morag Deyes and Tanusree Shankar
Image Credit: Idriss Assoumanou

About the team:
Shyam Dattani (he/him) is a London-based Kathak dancer and performance maker whose practice is grounded in strong technique, training and choreographic thinking, as well as trying to shift thinking regarding the innate gender roles within Kathak.
He has been training with Urja Desai Thakore at Pagrav Dance Company since 2016 and was the South Asian Dance category winner as well as grand finalist of BBC Young Dancer 2017. Since then, he has worked extensively with leading South Asian dance choreographers and companies in the UK & beyond, including Akademi, Beeja, Jaivant Patel Company, and SRISHTI, touring both nationally and internationally.
Dattani combines his unique perspective as a queer diasporically-trained dancer and his love for costuming in his choreography, and has received seed commissions from Sampad Arts, Akademi and The Mehfil Project to present work.
He is currently developing his new outdoor work 'Garbh' with commissioning support as a Without Walls 2023 Blueprint Artist and recently received Arts Council England funding for his work 'Dvihīna' which premiered at The Place for Resolution 2023 to critical acclaim.
Nilava Sen is a devotee and lifelong learner of the Uday Shankar Technique of Dance and Bharatanatyam and currently training under the tutelage of renowned Guru Smt. Tanusree Shankar and Smt. Rama Vaidyanathan. Nilava has performed solo and with his guru's troupe at many prestigious platforms all over India and abroad. Some of his notable performances include Nalanda Nrityotsava, organised by Nalanda Dance Research Centre, Mumbai; Mudra Dance Festival at NCPA Mumbai; Serendipity Arts Festival, Goa; Yuvalaya by GVRNK Foundation, Mumbai; Navapallava Festival; the Spain tour by ICCR; North-East Doordarshan, Agartala and many more. He is also the recipient of many awards including Nalanda Nritya Nipuna Award 2020 proffered by Nalanda Dance Research Centre.
Shadow and Light is the contemporary-classical duo of Anindo Bose and Pavithra Chari. With the sole focus of creating original music, they have written and independently released 3 studio albums to critical acclaim. Their original song Dua features in the Berklee Indian Ensemble's album Shuruaat, nominated for a Grammy in the Best Global Album category.
With varied musical influences, the duo fuse genres of Hindustani classical, Contemporary, Jazz, Pop, Electronica, and Soul to create cinematic soundscapes and compositions in Hindi, English and Tamil. Since 2014, they have toured and performed across India, Sri Lanka and the United States of America.
Notable collaborations include multi-instrumentalist Karsh Kale, playback singer Haricharan, the Berklee Indian Ensemble, Sarod players Amaan and Ayaan Ali Bangash, tabla maestro Talvin Singh, playback singer Benny Dayal, and guitar virtuoso Stanley Jordan. Their most recent collaboration with acclaimed musician and composer Salim Merchant was released in September 2022.
A graduate from the National School of Drama, New Delhi, Gyandev Singh has worked as a lighting designer with many eminent dancers and theatre directors like Leela Samson, Aditi Mangaldas, Roysten Abel, Anuradha Kapur, Kavalam Narayana Panikkar, Madhavi Mudgal, Malavika Sarrukai, Kumudini Lakhiya, Lushin Dubey, Ashley Lobo, Apsara Arts-Singapore and Akram Khan Dance Company-London India Tour.
His skills in stage lighting design have taken him to various theatre and dance festivals in Europe, North America, South America, Australia, Singapore, Thailand, Africa, China, Russia, and the Middle East. He has been invited to perform in festivals like the Edinburgh International Festival, the Bonn Biennale, the Prague Quadrennial, the Korzo International Dans Festival, the Internationale Tanzmesse Festival, the Dancing the Gods Festival, to name a few. 
He is also the recipient of the prestigious Bismillah Khan Yuva Award by the Sangeet Natak Academy, for Stage Lighting Design.

Gyan has made many films including a 26-episode documentary series on the forts of India. His latest feature film "Atithi" has been appreciated by audiences. Apart from this, he has co-directed several films on various classical dances and folk theatre forms of India.
book seats ⟶