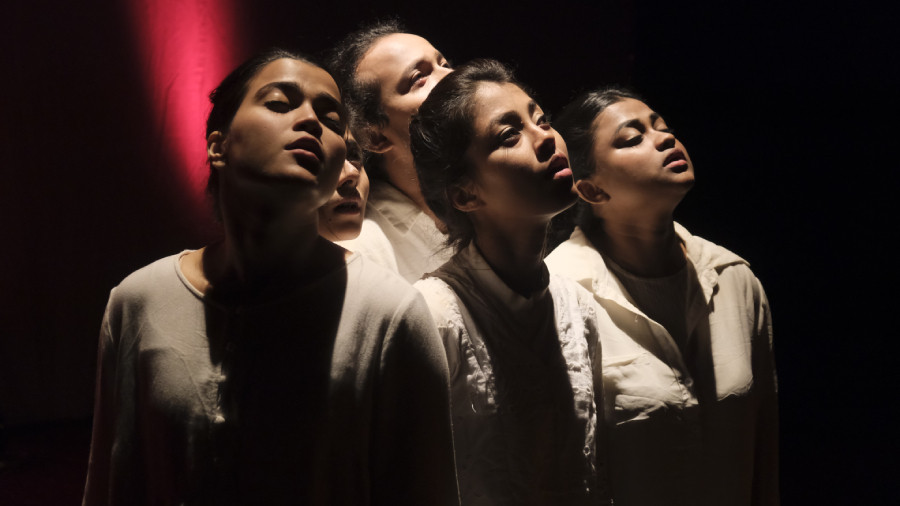 ASMR
ASMR stands for "Autonomous Sensory Meridian Response," a reference to the modern phenomenon of experiencing pleasurable, stimulating, and tingling sensations in the body and mind. This theatrical performance titled 'ASMR' delves into a philosophically intimate exploration of this phenomenon, aiming to evoke indescribable sensory responses and create new existential stimuli within the mind.
This abstract performance incorporates elements of speech, music, and movement as the performers dive into the depths of the mind in search of their identity. In this case, identity is symbolized by the Assamese word "মই" (Moi), translating to "me with the I" in English.
The performance raises profound questions about our core being and desires. Is there a desire beyond desires? If so, how do we express the waves of desires through emotions? And how does the sense of nothingness and emptiness persist within us despite the influence of our free will on our desires? Is there a collective metaphysical consciousness of desire, or does everything ultimately boil down to the question of individual existence?
Date: 21 December 2023
Time: 4 PM - 5:30 PM, 8 PM - 9:30 PM
Venue: The Theatre, Old GMC Complex
Artists:
Writer-Director, Producer, Choreographer and Production Designer: Hiya Anupam  
Performers: Bornali Bora, Ijaz Ahmed, Suvangi Keot, Karishma Puzari , Mridupabon Borah , Evlina Siddika, Kabyashree Hazarika and Hiya Anupam 
Live Musician and Vocalist: Rishav Dutta
Music Designer: Lakhyajyoti Boruah and Rishav Dutta 
Light Designer and Operator: Dimpal Kumar Das
Surtitle Operator: Anup Hazarika 
Producer, Stage Manager, and Make-Up: Pakija Begum  
Curated by: Quasar Thakore Padamsee
book seats ⟶