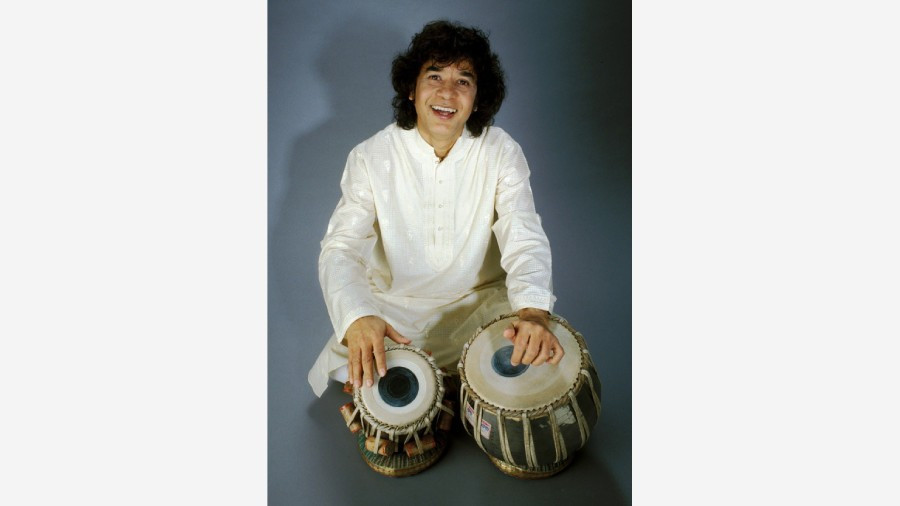 An Evening of Serendipity with Zakir Hussain and Friends
Renowned tabla maestro Zakir Hussain leads an ensemble featuring the extraordinary talents of Ranjit Barot, Rakesh Chaurasia, Zubin Balaporia, Sanjay Divecha, and Sheldon D'silva. Through intricate rhythms, soul-stirring melodies, and genre-defying improvisations, this collaboration, enriched by diverse instruments and genres, promises a memorable experience that showcases the prowess of the artists while exploring the intersections of their individual styles.
The pre-eminent classical tabla virtuoso of our time, Zakir Hussain is appreciated as an international phenomenon and one of the world's most esteemed and influential musicians. The foremost disciple of his father, the legendary Ustad Allarakha, Zakir was a child prodigy who began his professional career at the age of twelve, accompanying India's greatest classical musicians and dancers and touring internationally with great success by the age of eighteen. His brilliant accompaniment, solo performances, and genre-defying collaborations, including his pioneering work to develop a dialogue between North and South Indian musicians, have elevated the status of his instrument both in India and globally, bringing the tabla into a new dimension of renown.
Widely considered a chief architect of the contemporary world music movement, Zakir's contribution has been unique, with many historic and groundbreaking collaborations, including Shakti, Remember Shakti, Masters of Percussion, Planet Drum and Global Drum Project with Mickey Hart, Tabla Beat Science, Sangam with Charles Lloyd and Eric Harland, CrossCurrents with Dave Holland and Chris Potter, in trio with Béla Fleck and Edgar Meyer, and, most recently, with Herbie Hancock.
As a composer, he has scored music for numerous feature films, major events and productions. He has composed three concertos, and his third, the first-ever concerto for tabla and orchestra, was premiered in India in September, 2015, by the Symphony Orchestra of India, premiered in Europe and the UK in 2016, and in the USA in April, 2017, by the National Symphony Orchestra at Kennedy Center. A Grammy award winner, Zakir is the recipient of countless awards and honours, including honorary doctorates. In 2019, he became a Sangeet Natak Akademi Fellow, a rare lifetime distinction afforded to only 40 artists at a time by India's reigning cultural institution.
As an educator, he conducts many workshops and lectures each year, has been in residence at Princeton University and Stanford University, and, in 2015, was appointed Regents Lecturer at UC Berkeley. He is the founder and president of Moment Records, an independent record label presenting rare live concert recordings of Indian classical music and world music. Zakir was resident artistic director at SFJazz from 2013 until 2016, and was honored with SF Jazz's Lifetime Achievement Award on January 18, 2017, in recognition of his "unparalleled contribution to the world of music".
Curated by: Zubin Balaporia

Featuring: Ranjit Barot, Rakesh Chaurasia, Zubin Balaporia, Sanjay Divecha, Nadia Rebello, and Sheldon D'silva
Date: 15 December 2023
Time: 7 PM Onwards
Venue: The Arena at Nagalli Hills Ground
book seats ⟶