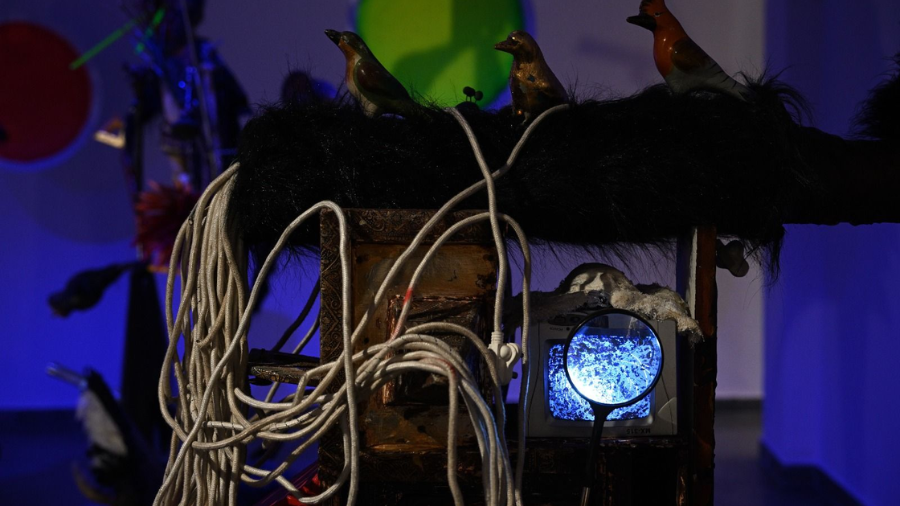 Turning: On Field and Work
This exhibition explores artistic projects that foreground other ways of knowing and inhabiting the world. With a focus on materiality, it explores the way these forms of knowing are inscribed, written in, and carried forth from the ground itself, embedded in materials, transmitted through processes of making. The exhibition is interested in exploring these knowledge positions that art can make visible or align with, what the anthropologist Tim Ingold refers to as 'knowing from inside' – a kind of knowing that is transformational, that grows from inside the unfolding of life, in the process of becoming.
One core of the exhibition is around artists working with land – quite literally building their artistic engagement from the ground, working with agrarian practices, indigenous knowledge systems, understanding rural and urban sites, working with marginalised communities, engaging with scarce resources, and rethinking questions of value and sustainability. The exhibition pays close attention to some of these practitioners who carry forth their experiments in excavating these experiences – making paper, developing soil notes, and seed libraries. From this section, which we call the library, that engages with land and landscape, the exhibition also extends into movements, solidarities, and collective struggles. Bodies rise, expressed through songs and manifestos, foregrounding political urgencies of caste and gender.
A deep attention is paid to materials like paper and wood not as neutral carriers of the word but as active agents in shaping our ways of knowing the world. The forms that carry into the exhibition conjure up different archives – an eccentric and manic collation of objects from the landfills of Delhi versus the exhumation of the early history of a women's organisation in Tezpur. The texts are also Ambedkarite songs carried in a portable trunk and compositions that arise from the rhythms of women tilemakers in Bolpur, Santiniketan. There are field notes on an arterial road linking India and Bangladesh or a tender remembering of a garden encountered in Kabul.
The exhibition returns to objects, to materials, to stories and disregarded histories, and most importantly our ways of describing and framing them, our ways of carrying them.
Date: 15 - 23 December 2023
Time: 11 AM - 8 PM
Venue: Ground Floor, Old GMC Building
Artists:
Benitha Perciyal

Youdhisthir Maharjan
Gram Art Project & Rangoato Hlasane
Sanchayan Ghosh
Babu Eshwar Prasad
Tahire Lal and Northeast Lightbox
Niroj Satpathy
Amol Patil
Smita Rajmane and Somnath Waghmare
Arshi Ahmadzai
Britto Arts Trust
Panjeri Artists' Union
Dhiraj Rabha
Ohida Khandakar
Ankan Dutta
Gauri Gill and Rajesh Vangad
Maksud Ali Mondal
Collateral Programming:

Bearing Witness: How Poetry, Music, and Performance Capture Vestiges of Fractured Life
Discussion and Performance by the Panjeri Collective
Date: 16 December 2023
Time: 6 PM - 7 PM
Venue: First Floor, Old GMC Building
A Performance by Ambedkar Age Digital Bookmobile
Date: 22 December 2023
Time: 6 PM - 7 PM
Venue: First Floor, Old GMC Building
Image credit: Artwork by Niroj Satpathy.
book seats ⟶