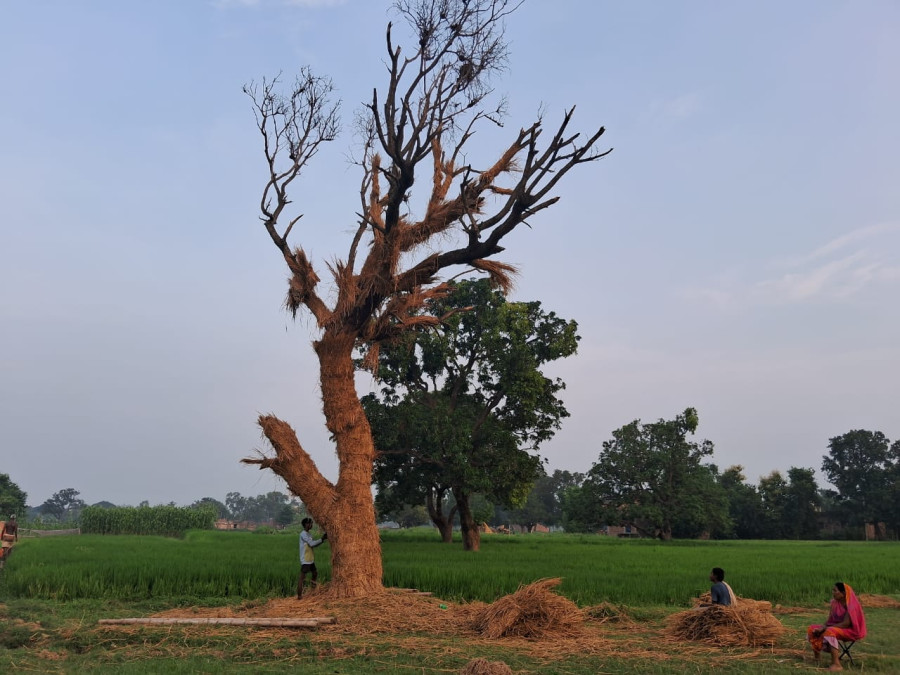 Time As a Mother
Time as a Mother examines our temporal relationships towards nature and the built environments we live with. What is time? We perceive it in relation to our own lifespans, failing to comprehend deep time as a force on the planet, shaping our very existence as a species. The exhibition uses time-based media to create a multifaceted space of film, poetry and text, sound, and narratives, to explore organic and inorganic worldmaking through time, but also the multiplicity of relationships unfolding between the human and more-than-human, their different temporalities and overlapping co-existences.
Time is a physical and philosophical concept that might have different cultural meanings, reverberations, and implications in our lives towards nature. It might be seen as nurturing or be perceived as cruel and destructive. The show co-curated by Ravi Agarwal and Damian Christinger will bring together perspectives from an Indian and European background, exploring the transcultural possibilities in the changes that our notions of time might need in this geological epoch we call the Anthropocene, to indicate the man-made changes in climate and environment defining the catastrophes we face together.
Time heals all wounds, they say; the temporalities of our extraction economies, the accelerating destruction of habitat, and the ticking clock of extreme weathers might just prove this saying wrong. To understand time on a planetary scale, we need to re-engage with its poetical qualities and develop a new approach towards our own, human, lifespans in relation to stones and sand, forests and rivers, mountains and deltas, the territories we shaped and are being shaped by us as a species.
Curated by Ravi Agarwal & Damian Christinger
Date: 15 - 23 December 2023

Time: 11 AM - 8 PM
Venue: Old PWD Complex
Artists:
Navjot Altaf
Badel/Sarbach
Ursula Biemann
Ishita Chakraborty
Monica Ursina Jäger
Paribartana Mohanty
Dharmendra Prasad
With poetic contributions by Flurina Badel, Nitoo Das, Ranjit Hoskote

Image Credit: 'A tree is waiting for a dream' by Dharmendra Prasad.
About the Artists:
Paribartana Mohanty (b. 1982, Odisha) is a multimedia artist living working with video, storytelling, writing and painting. His recent work explores new environment-disaster-landscapes emerging near the coast of Bay of Bengal in Odisha, that studies deep impacts of recurring cyclones, tsunamis and land erosion on marginal communities, nature and culture. Mohanty's interest and research is in examining how technologies of algorithmic networks, digitalisation, data mining, access and surveillance are shaping public perception about 'natural' calamity, and how new government policies are changing the rural landscapes in Odisha.
His work has been exhibited in many group exhibitions and film festivals in India and abroad.
Mohanty is a member of the artist collective WALA and worked as one of the curators for Kochi Students' Biennale (2016). He earned a BFA from Dhauli College of Art and Craft, Bhubaneswar (2004) and an MA in History of Art from the National Museum Institute, New Delhi (2006).
Ursula Biemann (b. 1955, Zurich) is an artist, author, and video essayist. Her artistic practice is strongly research-oriented, involving fieldwork from Greenland to Amazonia, where she investigates climate change and the ecologies of oil, ice, forests and water. Her videos interweave vast cinematic landscapes with documentary footage, science fiction, poetry, and academic findings to narrate a changing planetary reality. 
From 2018-2023, Biemann has been working on a major commission by the Art Museum of the National University of Colombia for the co-creation of a new indigenous University in the South of Colombia led by the Inga people. Forest Mind (2021) emerges from this long-term collaboration.
She has published numerous books, has had recent solo exhibitions at MAMAC Nice and the Centre Culturel Suisse in Paris. Biemann has received the 2009 Prix Meret Oppenheim, the Swiss Grand Award for Art, and the 2022 Zurich Art Award. 
Monica Ursina Jäger (b. 1974, Thalwil, Switzerland) is a Swiss artist living in London and Zurich. Working with drawing, collage, video and installation, her practice unfolds through a multidisciplinary reflection on concepts of nature, space, and architecture that investigate the relationship between the natural and the constructed environment. Fluctuating between the intuitive, narrative, and factual, Jäger scrutinises processes of transformation, re-arrangement, and mediation by unfixing the boundaries between artistic and scientific knowledge production. She develops complex space-image-time assemblages by accumulating different media (drawing, collage, and video), materials (ink, paper, chlorophyll, sediments, and plants), and different notions of time into captivating installations.
Jäger is a permanent faculty member of the Institute of Natural Resource Sciences IUNR, Zurich University of Applied Sciences ZHAW. She received her MFA from Goldsmiths, University of London. Her work has been shown internationally in museums and biennales, and she has received several grants and awards.
Jérémie Sarbach and Flurina Badel have been working together since 2014. Both received a Master's degree in Fine Arts at the Institut Kunst HGK FHNW Basel and further studied at the Cooper Union NYC, Akademie der Bildenden Künste and Universität der Angewandten Künste in Vienna. Badel/Sarbach are laureates of the Manor Kunstpreis 2019. They have presented solo exhibitions and been part of numerous group shows all over the world.
Ishita Chakraborty (b. 1989, Kolkata) is an artist represented by Gallery Espace, New Delhi. Chakraborty's practice includes scratched drawings, installations, poetry, performance, and sound. She investigates the strategies and discourses of resistance adopted and narrated by the subaltern. Their contexts are marked by traces of displacement, the trauma of colonialism, alternative articulations in language, oral histories, and identity. She earned an MFA degree in 2021 from Zurich University of the Arts, Switzerland and another MFA in 2013 from Rabindra Bharati University, Kolkata. She taught Fine Arts as an assistant professor at Amity University, Kolkata (2016-2018). She has shown in group and solo exhibitions all over the world and has received several grants and awards.
Navjot Altaf (b. 1949) is a transcultural artist, whose inventive multi-media work reflects political and aesthetic concerns that have been informed by dialogical ways of working. Her practice is located in the metaphor of flow – across materiality and theory, across place and people – and in finding a transdisciplinary perspective where inquiry and self-inquiry intersect. Her ideological positions moved from Marxism in the 1970s, to feminism in the 1980s-1990s, and ecofeminism from early 2000s onwards.
With a sustained engagement with indigenous cultures, local knowledge systems, ecology and social justice, her intellectual trajectory, like her creative process, has been shaped by life experiences and theoretical readings. Her extensive dialogues with Adivasi communities and artists led to the co-founding of the Dialogue Interactive Artists' Association (DIAA, 2000) in Kondegaon, Bastar, which focusses on enabling an inclusive and experimental platform for equal aesthetic rights, while probing systems of knowledge production. She has been part of numerous solo and group exhibitions in India and abroad.
Dharmendra Prasad is an artist based in Guwahati. He has a BFA in Painting from Govt. College of Arts and Crafts, Guwahati. He also did his MFA in Painting from the SN School of Arts and Communication, University of Hyderabad. He has been part of Artist Residencies such as Khoj PEERS (2018); Pepper House Art Residency, Kochi-Muziris Biennale (2018); and Dharti Arts Residency, Serendipity Arts Foundation, New Delhi (2019). Dharmendra has recently exhibited his work at A-Part: Stories of Lands & Lines (2019); Pepper House Residency Exhibition as part of Kochi-Muziris Biennale 2018-19; CIMA Award Exhibition (2019); Collection Bureau: A Pollinator Project at India Art Fair 2018. He has also shown his work previously at Harmony at Easel Art Gallery, Guwahati (2013); CONFLUENCE at Anga Art Collective, Guwahati (2012). His work also includes durational and collective projects.
book seats ⟶