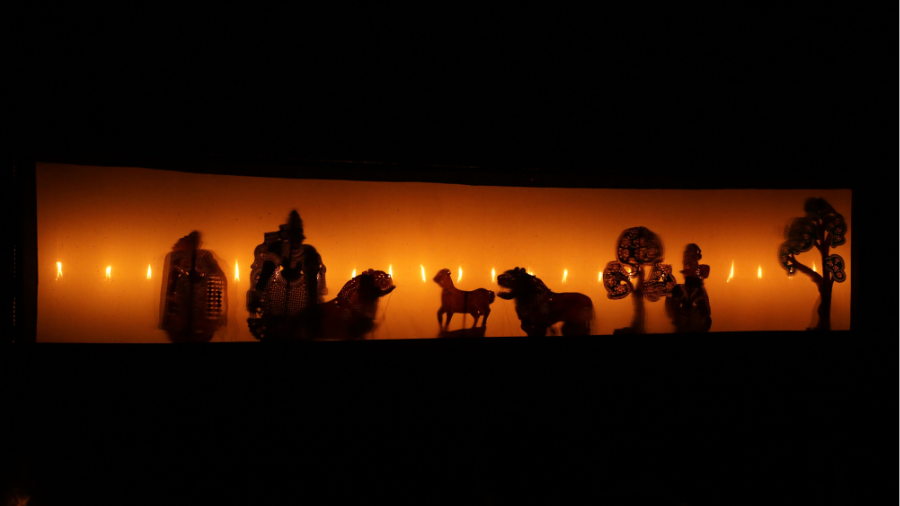 Crafted Expressions: Embodied Traditions in the Indian Performing Arts
One can say that the performing arts in their entirety, are a reflection of the belief systems, material culture, and the diverse craft skills of a region. This immersive and dynamic showcase unveils the captivating world of performing arts as an embodiment of artisanal mastery. Traditional theatre, dance forms, and puppetry, replete with narration and music, are some mediums that can be found in different avatars across our country. The evolution of folk instruments into their classical counterparts along with costumes with developed forms of textile-craft, elaborate headgear and masks, collectively breathe life into the characters through meticulous artistry. This exhibition shines a spotlight on how craftsmanship enriches the auditory and visual realms in the arts.
Through these myriad elements woven seamlessly together, 'Crafted Expressions' becomes a celebration of the fusion between craft and the performing arts, offering visitors a multifaceted journey into the depth and richness of India's vast cultural heritage. This exhibition invites spectators to experience firsthand the harmonious convergence of artistic dimensions, where craft and creativity intertwine in captivating ways.
Puppets
Indira Gandhi National Centre for the Arts, New Delhi (IGNCA)
Ramesh KV, Director Shri Gopalakrishna Yakshagana Bombeyata Sangha, Kasaragod
Anupama Hoskere Founder, Dhaatu Puppet Theatre, Bangalore
Puran Bhatt, Traditional Rajasthani Puppeteer, Delhi
Ramayana Story Installation
Makers 
Tamil Nadu: P Muthugopal
Maharashtra: Chetan Gangawane
Odisha: Gourang Charana Dash & Sidhartha Gourang Dash
Kerala: Rajeev Pulavar
Andhra Pradesh: Kanday Anjanappa
Karnataka: Gundu Raju Ramaiaha
Shadow Puppets from Personal Collections
Siddhartha Tagore collection, New Delhi
Anjana Somany collection, New Delhi
Theyyam Headgears as Costume
Headgears:
Purushothaman V K: Kannur District Kerala
Madhusoodanan P:  Kannur District Kerala 
Santosh Veeranga for coordination support
Artistic Installation
Puneet Kaushik, Visual/Installation Artist
Photographs
Thulasi Kakkat
Mayank Vij | We are Sonders Pvt Ltd 
Manipuri Dance Costume
 Installation Artist - Kshitij Jalori | Jalori Design Studio Pvt Ltd
Traditional Manipuri Costumes - Priti Patel collection
Mannequins - Kirti Jalan Design Studio
Cham Masks as Costume
Masks
Ladakh Himalayan Art International Zone | LHAIZO Art Studio
Chhemet Rigzin with Stanzin Chokdup
Sketches
Stanzin Chokdup


IGNCA, The Indira Gandhi National Centre for the Arts, New Delhi for loan of manifestation masks of Guru Rimpoche
Musical Instruments
Arna Jharna, the Thar Museum of Folk Art, Jodhpur
Kuldeep Kothari – Rupayan Sansthan Jodhpur
Ravindra Rathore from team Rupayan Sansthan for handling the logistics
Photographs
Jaipur Virasat Foundation, Jaipur
Kuldeep Kothari – Rupayan Sansthan, Jodhpur
Chugge Khan Manganiyar for the intellectual sharing of the indigenous culture
Priyamvada Golcha for coordination support
Documentation: Anjana Somany, Rhea John, Amisha Agarwal
Copy Editing and Proofing: Kadamboor Neeraj
Exhibition and Graphic Design: Vertex Inc

Lighting Design: Linus Lopez Curated by: Anjana Somany

Date: 15 - 23 December 2023
Time: 11 AM - 8 PM
Venue: Azad Maidan


Extended Programming:
Sampoorna Ramayan in Tholpavakoothu 
Curated by Geeta Chandran
Shadow Puppet Making - Chamadyacha Bahulya (Maharashtra) 
Curated by Anjana Somany and facilitated by Chetan Gangavane
Capacity: 25-30 
Shadow Puppet Workshop - Chhaya Chitra (Karnataka) 
Curated by Anjana Somany and facilitated by Gundu Raju
Capacity: 25-30 
Panchawati Story: A Performance of Shadow Puppetry
Curated by Anjana Somany
A performance by Chetan Gangavane and troupe 
Panchatantra Story: A Performance of Shadow Puppetry
Curated by Anjana Somany
A performance by Chetan Gangavane and troupe 
Indrajit Kalaga: A Performance of Shadow Puppetry 
Curated by Anjana Somany
A performance by Gundu Raju and troupe 
Veera Abhimanyu: A Performance of Shadow Puppetry
Curated by Anjana Somany
A performance by Gundu Raju and troupe 
book seats ⟶